If you're looking to make sense of everything you take along on your daily travels, consider adding a factory cargo organizer. No matter which Kia you drive, there's bound to be one available that makes it easier to keep papers, files, sports equipment, and more safely secured and readily accessible.
These days, cargo organizers come in many forms. Some are containers that stand upright and can be installed in your trunk or cargo space, while others feature pockets that store valuables. The latter type can either hang from the seatbacks or slide under the seats. Then there are the modular systems that make it possible to carry all of your important files and samples with you as you call on clients.
Cargo organizers may be made of durable plastic or a sturdy fabric such as canvas. While most are flexible and can be folded down to stow when not in use, some do feature frames that offer stability and reinforcement.
Buy Genuine OEM Cargo Organizers Online
Adding a cargo organizer to your other cargo solutions is a simple matter when you shop our online Kia auto parts store. That's because they're the only ones that are made by your manufacturer for your model, ensuring the compatibility you need. Find yours, along with any other interior accessories you may need, in stock and ready to ship. Buy now and save!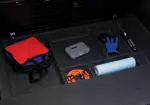 Cargo Organizer
Description:
Heavy-duty organizer, custom fit to the under cargo area.
Notes:
Lower 5 passenger only.
Cargo Organizer, Portable
Other Names:
Cargo Organizer
Description:
This roomy carrier helps you pack in plenty of supplies, then lifts out and folds away flat to free up cargo space for your next errand.
Fits:
Kia:

Cadenza,
Forte,
Forte Koup,
Forte5,
K900,
Niro,
Optima,
Rio,
Sedona,
Sorento,
Soul,
Soul EV,
Sportage,
Stinger
No results found for "cargo organizer". Here are some helpful search tips:
Search by a part name. Example:

water pump

.
Be less specific. Example:

brake

instead of

ceramic brake

.
Remove information such as make, year or model.
Can't find the part you are looking for? Contact us and

we'll find it for you!